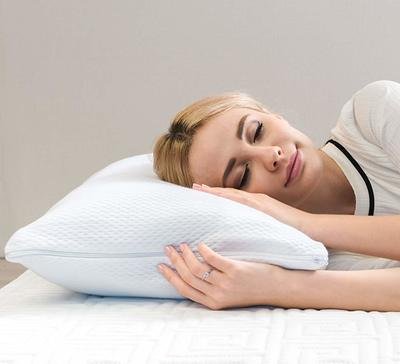 Memory Foam Pillow has features that there is no substitute material as follows
1. Dissipating pressure on the blood vessels and nerves Eliminate pain and headache problems when waking up.
2. When exposed to body temperature, Memory Foam will soften and completely tighten the various parts of the body.
3.Memory Foam has calculated the speed of recovery to match the rhythm of turning. Helps to sleep deep and to turn naturally
4. Prevent wrinkles on the skin caused by pressing because of the reclining position, especially around the outer corner of the eye.
5. Manufactured by molding process which makes Memory Foam high density Durable to use
7. Pillowcases are made from Jacquard Velor, which is a fabric that feels soft like velvet but is more durable and uses weaving techniques. Which has a special accessory called Jack Card, which is weaving flowers and patterns Is a weaving that is more complicated than conventional weaving methods Resulting in the fabric having a relatively high price but with beautiful patterns